Symphogear in the Landscape of 2012 Anime
Symphogear was both a product of, and ahead of, its time when the first season premiered back in January of 2012.
It came out a year after Madoka, but a year before the first real "Madoka knock-offs". The door had been opened for magical-girl-style shows targeted at late-night audiences, but not enough time had passed for the concept to explode into the inevitable wave of "what if Precure but dark" imitators. And as much as Symphogear loves to pepper its multicolored transforming superhero story with brutality (especially in its first season) and "fanservice," it doesn't feel like it owes nearly the debt to Madoka as the series to follow.
| | | | | |
| --- | --- | --- | --- | --- |
| | --> | | --> | |
On the musical side of things, it came out the year after Idolmaster, but the year before Love Live. The boom in idol anime had just started, but not yet reached critical mass, with Symphogear riding on the coattails of series like Macross Frontier and Uta no Prince-sama, but predating the next wave of hits like Aikatsu, Pripara, and Wake Up Girls. Symphogear's own Studio Satelight would go on to make AKB0048 the very next season, and co-creator Noriyuki Agematsu would go on to write for Bandori. It stands at this nexus point in the world of "anime created to sell character singles," where the model was starting to find its footing but the CD market wasn't yet so competitive that a small upstart player couldn't make a substantial impact.
| | | | | |
| --- | --- | --- | --- | --- |
| | --> | | --> | |
Heck, it even predated the first season of the new JoJo anime (though the JoJo manga's been going since the 80s). But what's the point of all this? What I'm really trying to say here is: Symphogear managed to tap into so many places that anime was clearly going but hadn't quite reached yet. And that's a big part of what's so special about it; what's allowed it to take off in the way it has. Back in 2012, it took pretty much everyone who watched it by some degree of surprise.
| | | |
| --- | --- | --- |
| | --> | |
Now, there's nothing else that's quite like Symphogear, but there are a couple series I think it owes quite a lot to. So let me put on my anime geneologist's hat for a minute as I identify what I believe to be its two most direct parents.
---
Macross Frontier
The first of these is the Macross franchise, and particularly Macross Frontier.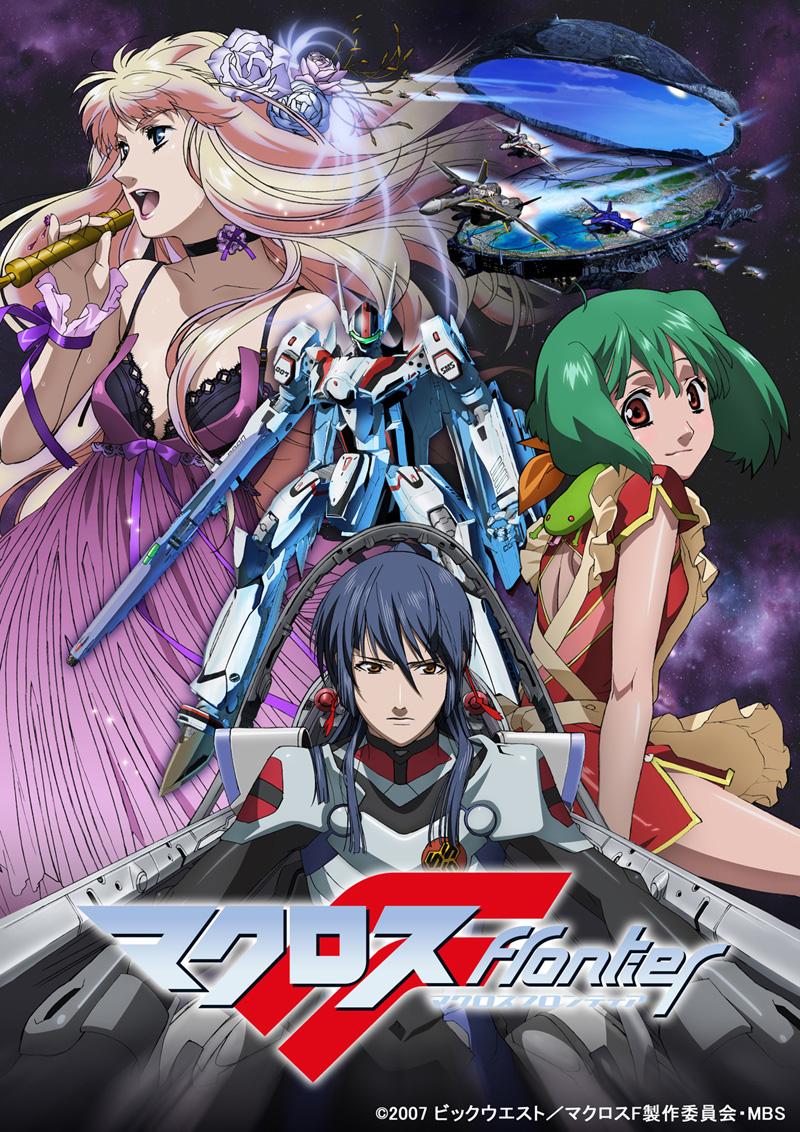 Macross is one of anime's most popular and long-running mecha franchises. It features idol singers as lead characters alongside its giant robot pilots, to reinforce its message that culture could be as powerful of a force as military might - that the power of music can bring us together even as war brings us apart.
Some of you may know it better as Robotech, but I'd rather not start a fight right now.
Macross Frontier, the most recent entry in the franchise at the time, had been nothing short of a musical juggernaut since it aired in 2008. It drew huge crowds to multiple live concerts, and every soundtrack and single broke the top 3 on Japan's weekly music charts, selling a total of almost a million units domestically.
A million units.
Of an anime soundtrack.
Anyway, 2011 saw the release of Frontier's final theatrical film, The Wings of Goodbye, leaving Studio Satelight ready to move on to its next thing. And, as if splitting Macross's mecha/music combo right down the middle, that next thing was two simultaneous releases in Winter 2012: the magnificently goofy mecha series Aquarion Evol premiered alongside a scrappy little music-focused show called… Symphogear (Evol's second half would air alongside the first season of another Satelight-produced music anime - AKB0048).
Although Satelight were only co-producers on Symphogear S1, in collaboration with the smaller studio Encourage Films, they would – quite noticeably – go on to become the franchise's primary animation force from S2 onward. But even this early, the influence of the veteran animators from the Frontier movies is extremely evident in certain episodes – the concert scene in episode 1 especially looks like it stepped straight out of Macross's storyboards.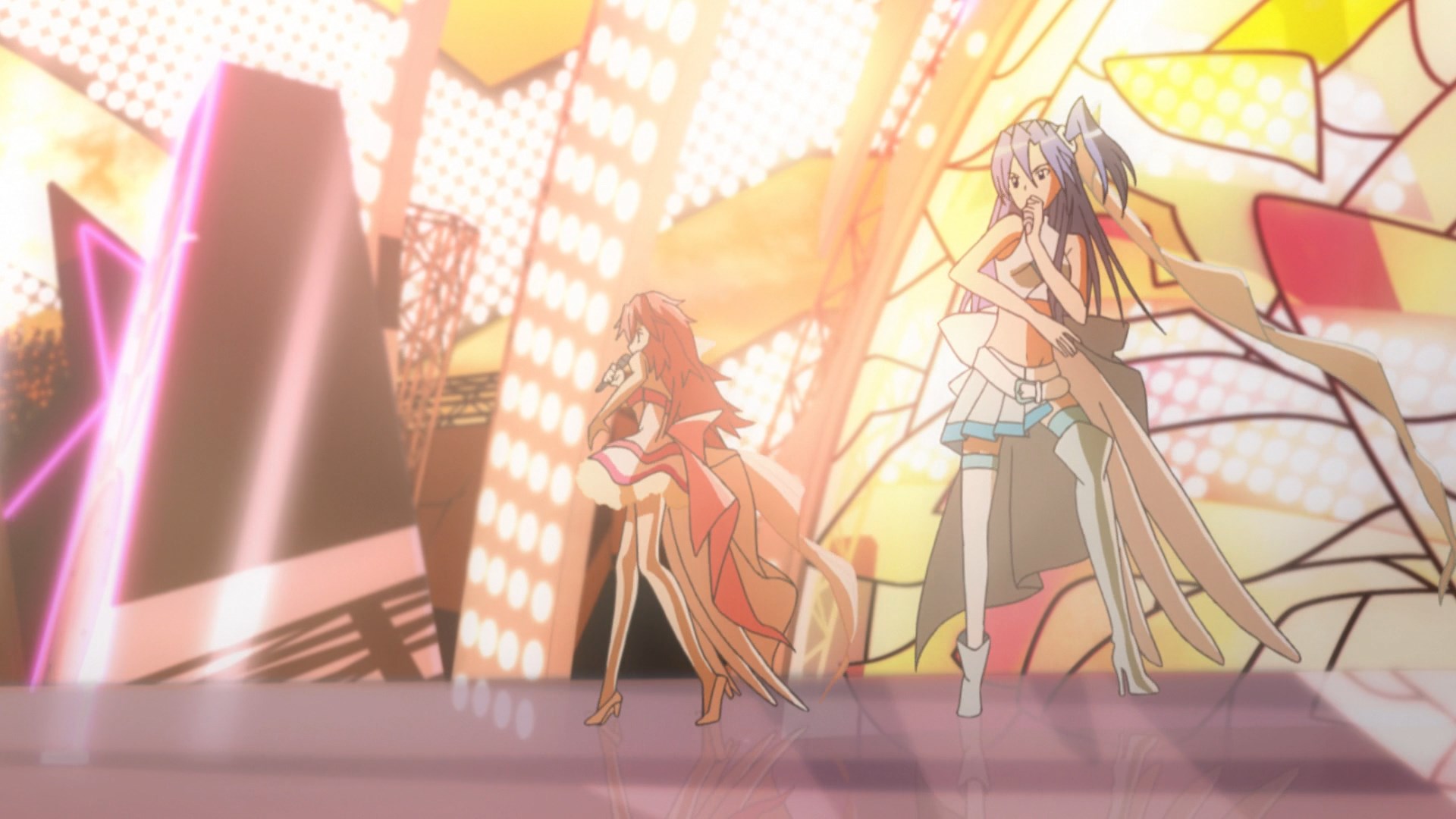 So, we've got
☑ Our animation studio
☑ Our business model
☑ And our "POWER OF MUSIC, SAVING THE WORLD"
all from Macross. Which is pretty rad, because Macross is pretty rad.
Honestly, I wouldn't even be surprised if Symphogear got the defining lyric of its first opening theme straight out of the mouth of Macross 7's Nekki Basara.
But what about the magical girl elements?
---
Magical Girl Lyrical Nanoha
Let me introduce you to Magical Girl Lyrical Nanoha.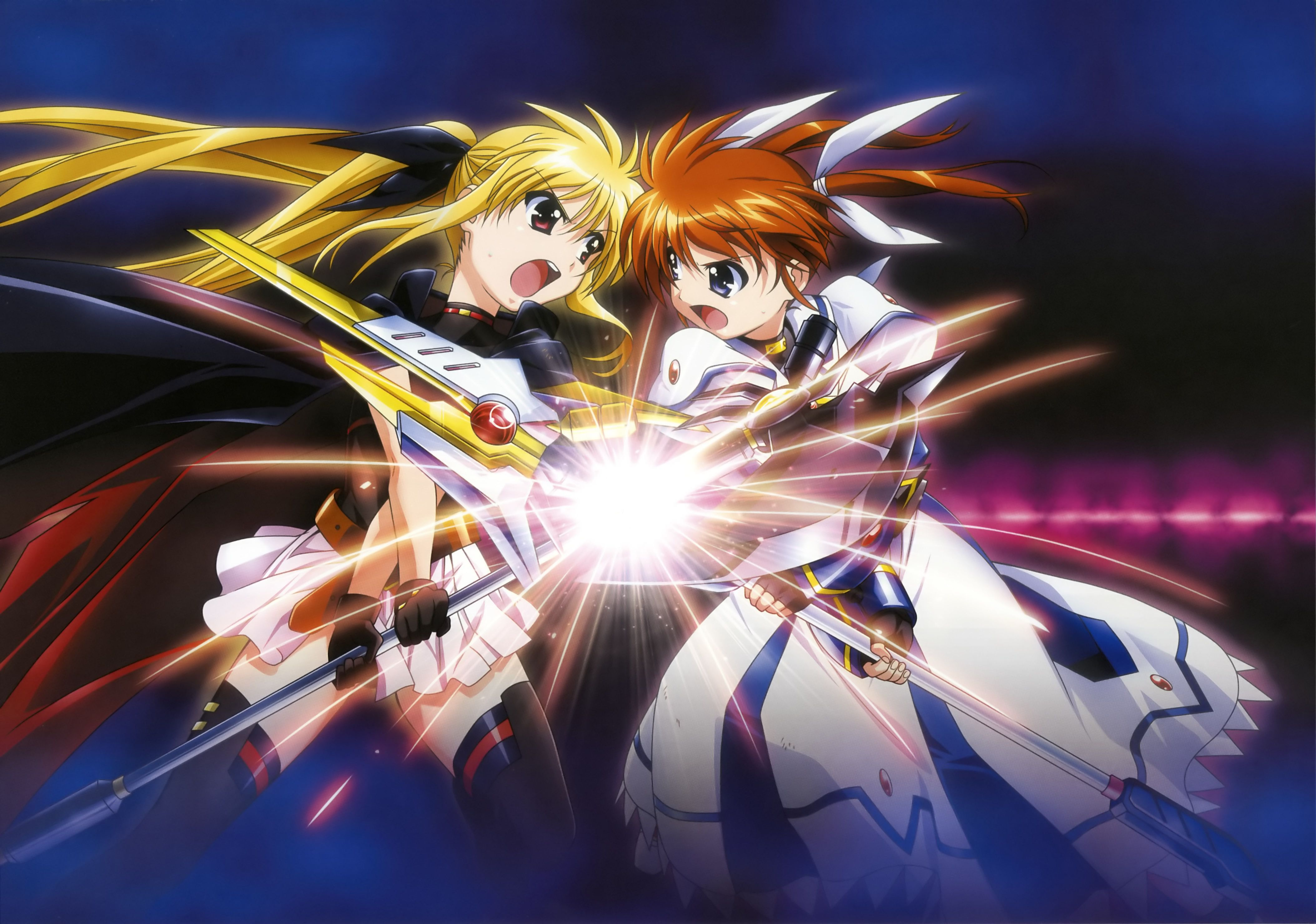 Magical Girl Lyrical Nanoha is the gay hotblooded magical girl anime with mecha elements that feels, at least to me, like the show that ran so Symphogear could fly (because let's be real, neither of these shows has ever just walked). Symphogear takes all the things I liked most about Nanoha, adds on the musical elements (and, mercifully, a few years onto the characters' ages), and cranks it up to eleven.
Oh, and you remember how in my introduction I mentioned that Symphogear is about resolving conflicts by befriending your enemies? That reminds me of an ancient meme from back in the Nanoha days…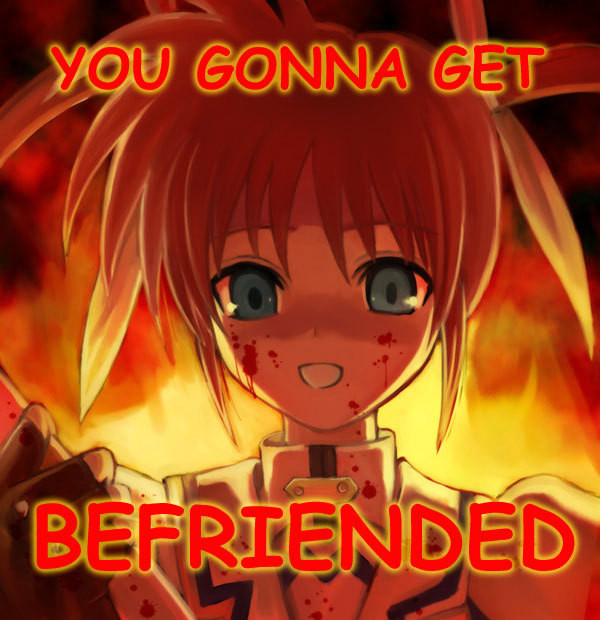 Like Symphogear, one of Nanoha's big messages is that deep down, we're all people, and if you push hard enough, you can help them realize – if only in the humility of defeat – that maybe your goals aren't so different after all, and we could achieve them more easily if we work together. Nanoha never really kills anyone, she always ends up befriending them by the end of the story. And the harder she beats them into submission, the better friends they become! Isn't that adorable?
Oh, and in case you think I'm joking, this is the exact moment in season one where Nanoha befriends her future wife, Fate.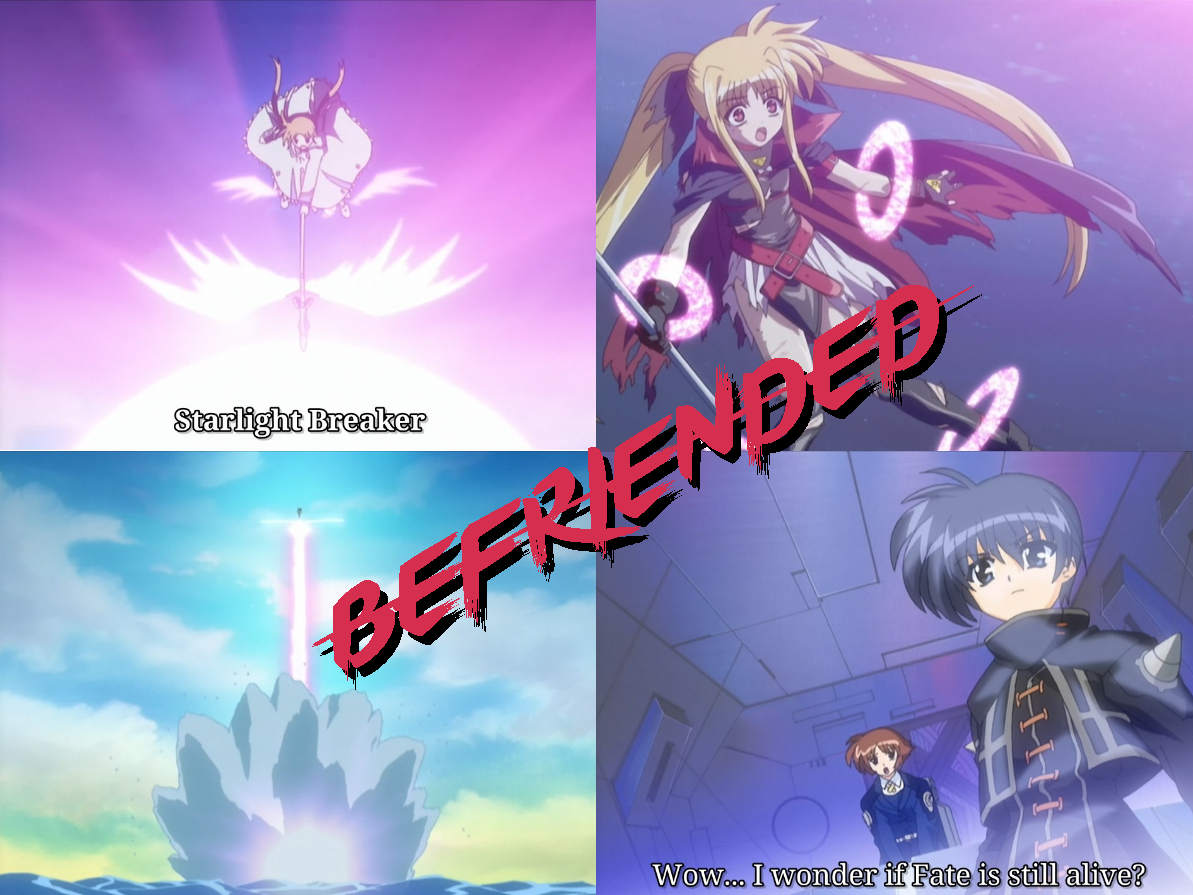 I'm 100% dead serious, from this scene onwards they are inseparable friends. That's just how it works, I don't make the rules here. That's what friendship is.
So Nanoha gives us
☑ Our magical girls with mechanical weapons
☑ Our gay undertones
☑ And our "YOU GONNA GET BEFRIENDED" attitude
There's another connection here too but I'll get to that on the next page.
(Also, one WILD tidbit that I didn't even realize after I'd assembled this panel - Daybreak Illusion, the show that I'd picked out as the earilest "Madoka knockoff" example I could remember, was actually done by the director of season 2 (and onward) of Nanoha! It's always fun to find these deeper roots in things I otherwise hadn't given a second thought to)
---
Conclusion
My point here is basically that if you:
Take the foundation of Nanoha's premise and thematic content

Stir in the musicality and spectacle of Macross

Toss it into the 2011-2012 anime zeitgeist

And remove all the rails from this train
Symphogear is what you get.